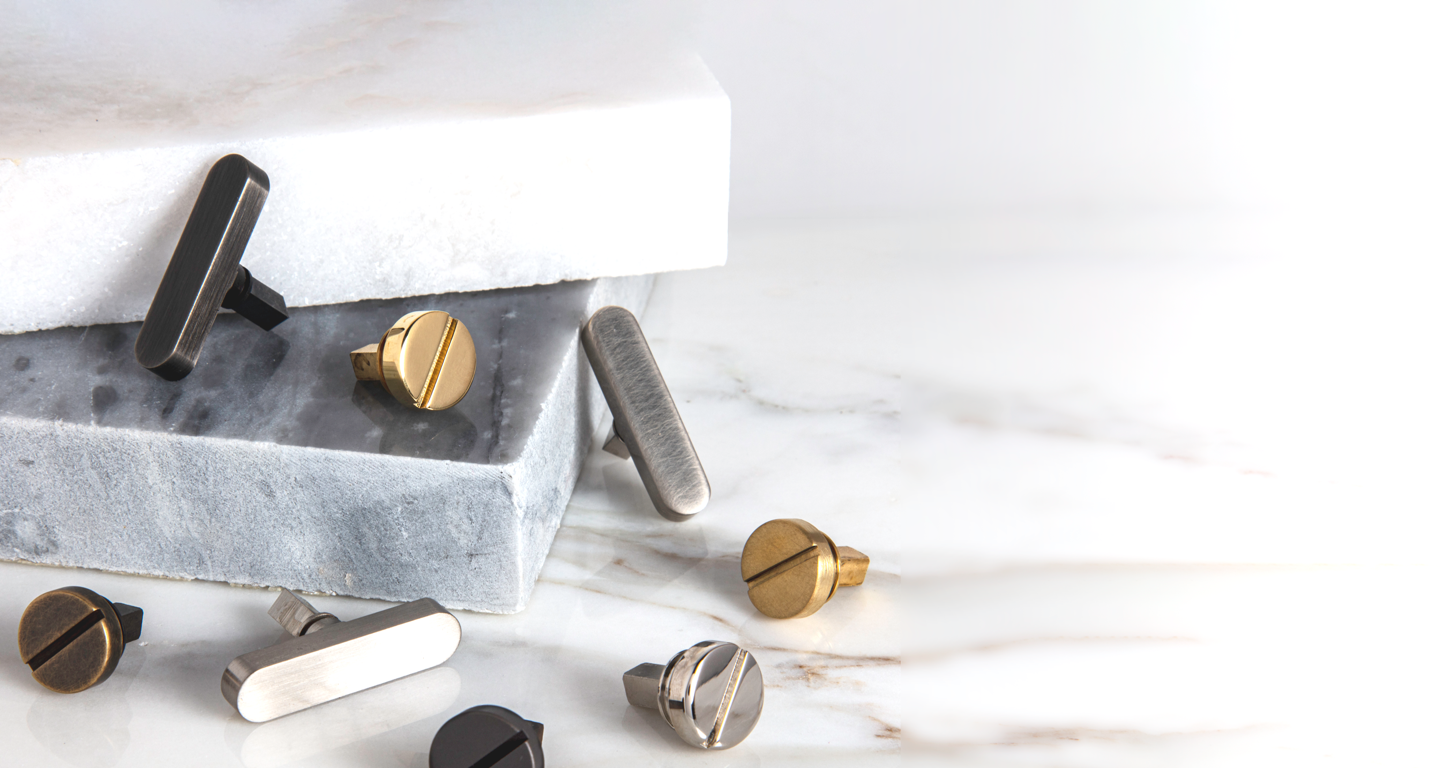 About Accurate
For half a century
,

Accurate Lock & Hardware has been dedicated to providing the finest American

-

Made locks and hardware solutions

.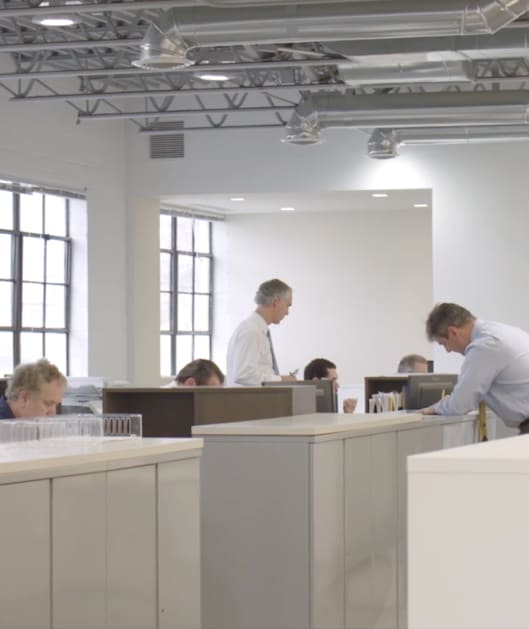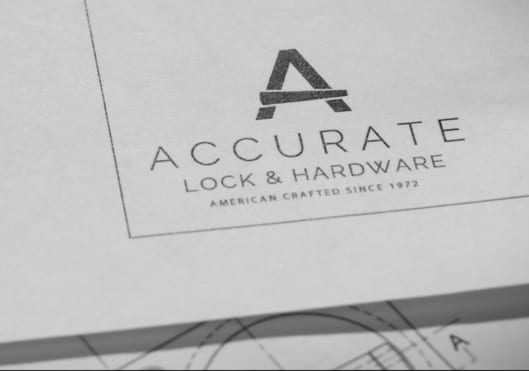 Accurate Lock and Hardware fuses old-world craftsmanship with modern technology to create architectural hardware products of uncompromising quality. Our team of experts have created an extensive range of products for the entire door including custom solutions for highend residences, commercial buildings, institutional facilities, and important landmarks such as the White House, Ellis Island, and state capitols. Since 1972, we have operated under one guiding principle: if you can dream it, we can make it. From concept to manufacturing, all Accurate products are proudly made entirely in the USA.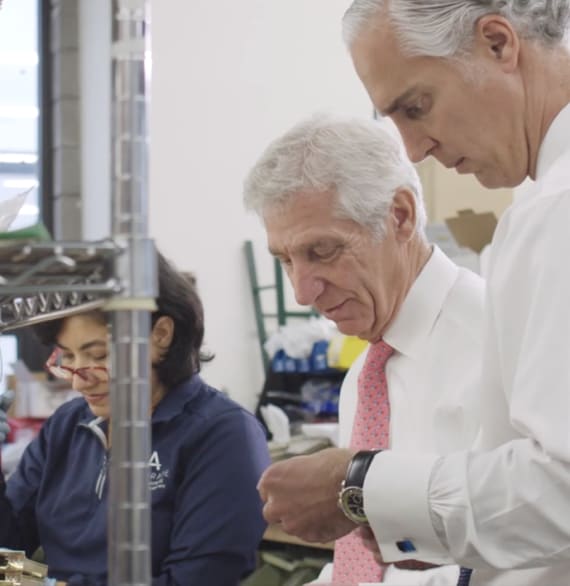 Our Team
Founder & Chairman
Ronald M. Salvatore
Ronald graduated with a B.B.A. from Fairfield University in 1964 and after a tour with the 192nd Artillery Division of The Connecticut National Guard, he founded Accurate Lock and Hardware in 1972. Over the past 50 years, Ron has established Accurate as the premier lock and hardware manufacturer in the industry and still remains actively involved in the business. Ron is a member of the Society of Manufacturing Engineers, the Door and Hardware Institute, and the Decorative Plumbing and Hardware Association. He has held appointed positions with the Stamford Fire Commission and the Stamford Police Commission, as well as serving on a variety of volunteer boards including: State Street Debating Society, North Stamford Little League, the Stamford Boys Club, and the Yale Eye Center Advisory Board. Ron resides in Stamford, CT with his lovely wife Joanne of 53 years with whom he shares 4 sons and 12 grandchildren. When he's not at Accurate, he enjoys playing golf and tennis with his close friends of over 40 years.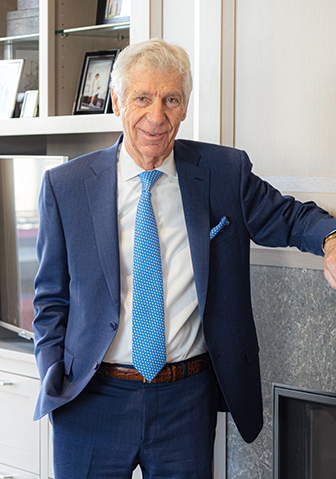 Chief Executive Officer
Reed M. Salvatore
Reed joined Accurate as the CEO in July of 2014. He previously worked at Accurate throughout high school and college in various capacities. Reed graduated Dartmouth College in 1993 with a B.A. in Economics and spent the last 20 years managing global trading desks before rejoining Accurate in his current role. Reed serves on the Board of Directors of CBIA and The Federal Tax Authority (Tax Cloud), and is on the Advisory Board for the Fairfield University School of Engineering.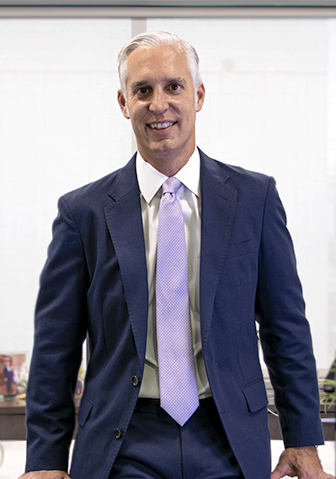 Vice President
Rodd Salvatore
Rodd rejoined Accurate in 2018 as Vice President after leaving in 2015 to pursue a tech venture. Prior to that, Rodd worked as an options trader on the American Stock Exchange spending 15 years at Accurate in various capacities. Rodd studied business and marketing at Boston College and the University of Connecticut, respectively. Rodd resides in Stamford, CT with his wife Jennifer and three sons.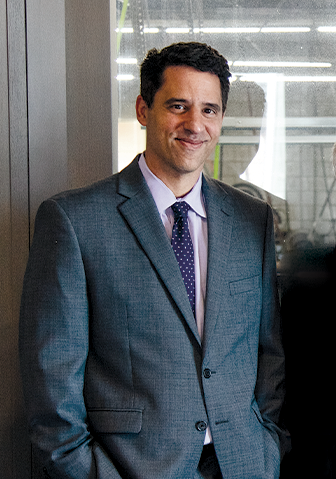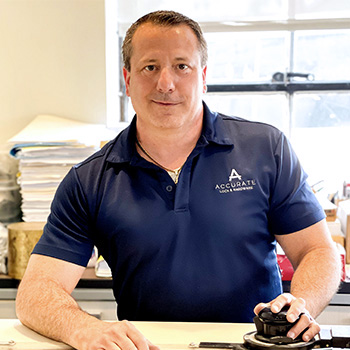 Director of Fulfillment & Custom Manufacturing
David Cundari
David joined the firm in 1986 while a student studying drafting and mechanical engineering. A much smaller company then, he had the opportunity to work in many departments at Accurate including polishing and finishing, lock assembly, shipping and receiving, machining, and drafting. David eventually handled most of Accurate's prestigious historical restoration projects. Today, he manages a dedicated group of engineers providing consultation and insight while personally handling the advance projects. David's exposure to all aspects of Accurate's operations has led him to be a key member of the Executive Management Team.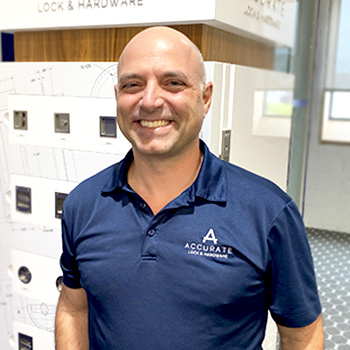 Director of Sales
Mark Gallo
With a degree in Architectural Engineering, Mark Gallo joined Accurate Lock in the spring of 1992 as a draftsman and junior engineer. Over the past 20+ years, he has become a key member of the Accurate Team as the Director of Sales. Mark and his team are responsible for curating customer relationships and finding turn-key solutions to enhance the overall customer experience. Mark resides with his wife and two children in Redding, CT.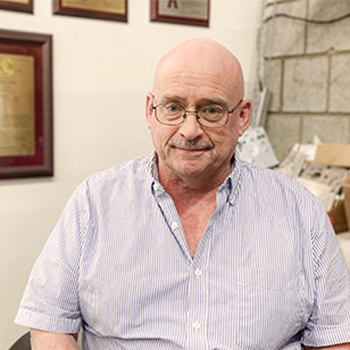 Director of New Product Development & Manufacturing
Fran Colligan
Fran came to Accurate in 2004 with a degree in Manufacturing Engineering and 25 years of experience in multiple engineering disciplines. These include mechanical, manufacturing, industrial, packaging and value engineering. Prior to engineering, he worked as a certified journeyman tool and die maker for many years. This rich background in all things manufacturing, including machining, fabrication, and CNC programming, make him uniquely qualified to take ideas from concept to production swiftly to give Accurate an edge in providing products to quickly meet the ever changing demands of the architectural hardware community. Fran handles new product development as well as helping to introduce and implement the latest technologically advanced equipment. He oversees and consults with factory personnel on production techniques. Fran leverages his knowledge of AutoCad, SolidWorks, and 3-D printing technology to deliver creative product developments. He currently has 31 US patents and one pending.
Senior Account Executive
Monica R. Nunez
Monica received her B.S. in Computer Science from Polytechnic School in Guayaquil, Ecuador. Commissioned with upgrading Accurate's internal and external technology systems, she became familiar with product offerings and operational tasks that accounted for her transition into the Sales Department. Her computer background enables the synergy of Sales, Marketing, and Computer Systems to ensure that all tasks remain on track, goals are met, and most importantly, clients are satisfied.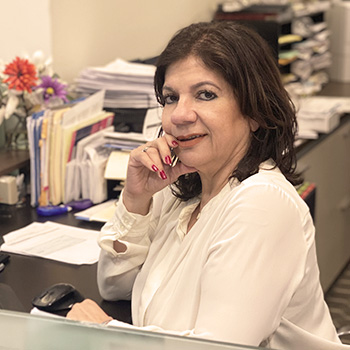 Director of Human Resources
Mercy Arteaga
Educated in Ecuador with a Bachelor's degree in Business Administration, Mercy has been with Accurate since 1986. Beginning her career as a receptionist, she quickly assumed multiple office responsibilities in the rapidly expanding firm. She quickly ascended to a management role handling a staff that is responsible for accounting, order processing, reception, human resources, payroll and purchasing. She and her team keep the operations of Accurate running smoothly on a daily basis.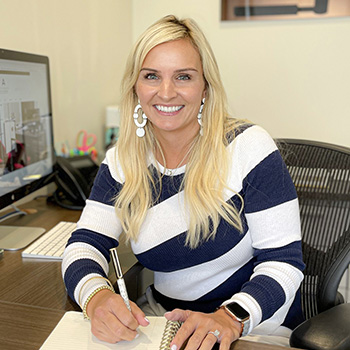 Director of Marketing
Tarra Del Chiaro
Joining the team in 2016, Tarra was tasked with redefining and evolving the Accurate brand and its footprint. By elevating the look and feel of the brand to where it is today, she created more visibility in the industry through a variety of brand activations, display programs and traditional and digital advertising. Additionally she led the launch of Access by Accurate, which features capsule collections of hardware by well-known interior designer, Jay Jeffers, and most recently the Thom Filicia for Accurate Collection of Hardware. Previous to her current role, she led the global digital strategy for the fashion brand, GUESS' watch division, responsible for delivering the brand message in a curated, market-specific manner to over 75 countries worldwide. Prior to that, she worked at Response Marketing, a boutique firm, where she led integrated concept strategy for global brands including Logitech, McAfee, ASSA ABLOY, and Stanley Black & Decker. She is a charter member of the Fairfield County Women in Building Council and currently sits on the Board as Secretary.
Director of Operations, Production & Logistics
Rocco Cundari
Rocco is responsible for maintaining the integrity of production schedules in relation to customer sales orders due dates. He oversees production planning, finishing, assembly and fulfillment operations. As a fan of Accurate for over 30 years, when the opportunity to join the team presented itself, he was more than excited to join. Taking the business to the next level, along with the vision and challenges that come along with it, firmly fits his career background. Prior to Accurate, he managed five distribution and production facilities and traveled domestically and globally to Germany frequently throughout the year. He has been part of the team for eight months, enjoys having the home base at Accurate and looks forward to contributing, and continually making us number one in the industry.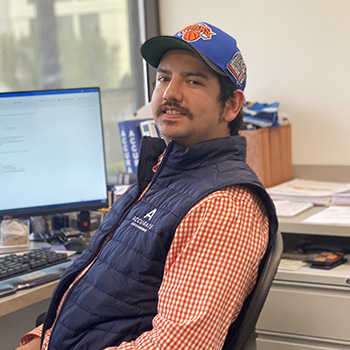 Director of Accounting
Daniel Oliva
Daniel joined Accurate in early in 2017. His background includes three years of clerical and administrative assistant duties, and most recently, two years stationed as an operations manager in a small manufacturing company, also in the lower part of Fairfield County, Connecticut. He currently holds a BS in Accounting from the University of Bridgeport. Daniel holds a high level of competence in dealing with process controls, as well as a skillset that allows him to assess critical problems, enabling the delivery of cutting edge and tech compatible solutions. Daniel also prides himself with maintaining professionalism standard, and sharing common courtesy with his fellow Accurate representatives.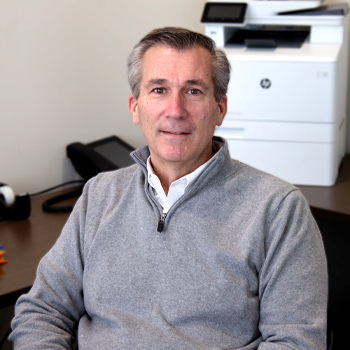 Director of Business Development
John Bergstrom
John has been involved in the architectural hardware industry since he was a kid. He started as a delivery boy delivering castings from his dad's foundry and airline tickets from his mom's travel agency (way before the internet) to Corbin, Russwin, and Stanley Works. After graduating college, John joined Corbin Architectural Hardware (way back in the Emhart days) and since then has held high-level sales, marketing, and executive leadership positions with Kaba High Security Locks (way before merging with Dorma), Dorma Architectural hardware (way before merging with Kaba), AssaAbloy (after they bought everything), and the past 11 years leading FSB North America. John has one US patent (long since expired), has sat on numerous boards, has a beautiful wife, four children, and one grandchild all of whom are keeping him from retirement.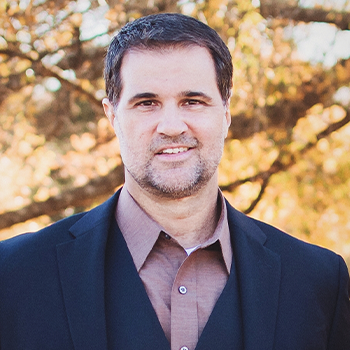 Director of Field Sales - Behavioral Health
Rodney Allison
Rodney joined Accurate in 2022 to focus on the Ligature Resistant line of products for our business. For the last ten years, Rodney has spent his career specializing in healthcare, specifically, helping to create a ligature resistant space in behavioral health. His previous role provides him with the experience necessary to represent Accurate in this all-important ligature resistance space for behavioral health. Rodney has a unique passion to work with healthcare facilities and design firms to provide the very best LR solutions for patient safety. "Our common goal is to the patients, to aide the end user in creating a safe, livable space for their patients". Rodney is available to consult with you and your team for any Ligature Resistant solutions you may be looking for in your facility. Prior to 2012, Rodney spent the first part of his career in the fitness industry followed by local media sales. Helping people achieve their goals has been the center piece of his career. Rodney holds a degree in both Drafting and Design and Business Administration. When he's not traveling around the country assisting you with your projects, you can find Rodney at home down in Texas with his wife and two kids. Rodney is a member of ASHE.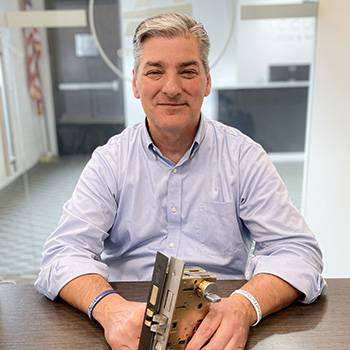 Field Sales Consultant
Jeff Graveline
Jeff joined Accurate in 2015 with a focus on field sales support, business development, and new product development. Jeff holds a Bachelor's of Science degree in Civil Engineering from Worcester Polytechnic Institute and a Masters of Business Administration from Fairfield University. His previous roles in Brand, Product, and Marketing Management with consumer durables companies such as H.B. Ives, Corbin Russian, and 3M Cuno, provide him with the necessary background to represent Accurate in the architectural hardware industry. He has spent his career marketing to the building industry through key influences such as Architects, Engineers, Contractors, End Users, Contract Hardware, and Decorative Hardware & Plumbing Distributors in coordination with National Sales Organizations. Jeff is a member of DHI, DPHA, ASHE, and NAPHS.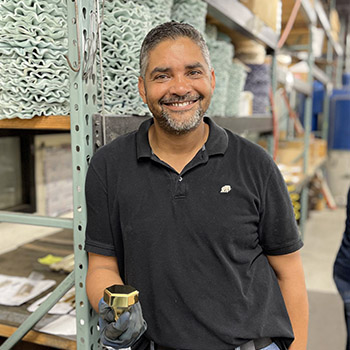 Order Expeditor/Special Projects Coordinator
David Ceballos
David received a Business Management Degree from Farmingdale State University, a Law Degree from University Dominica OYM, a Masters Degree in Political Science from Catholic University, and a Marketing Degree in Barkley College. David uses his diverse background to perform a variety of functions on the factory floor including coordinating, supervising, expediting, and studying general and special production processes at Accurate. His broad skill set makes him uniquely qualified to be the de facto liaison between office and factory personnel. David assists in implementing new manufacturing technologies to keep the company on the cutting edge.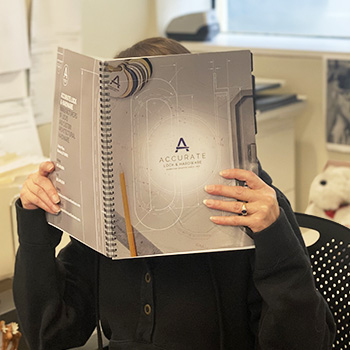 Customer Service Coordinator
Lori Tucciarone
Lori joined Accurate in April of 2016 as our receptionist. After nearly 30 years in the Property & Casualty Insurance Industry she is comfortable with multi-taking in a fast paced environment. Lori took on every challenge offered to her to assist our sales team. In early 2018, she was promoted to Customer Service Coordinator, continuing to be instrumental in engaging with our customers. Lori holds an AA in Liberal Arts with a major in Sociology and a minor in Cultural Anthropology. Lori's mission at Accurate is to treat every client – phone call or walk-in - with a smile on her face and better than she would want to be treated.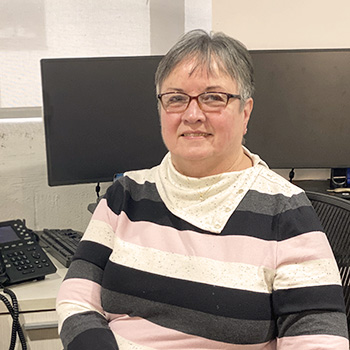 Receptionist
Linda Cohen
Linda is the part-time receptionist at Accurate. In addition to greeting visitors and managing deliveries, she helps to maintain records of sales and shipping orders for the company. She has been part of the team for 2 years, and works with her husband who has been here for over 25 years and son for 15 years. She truly enjoys that Accurate is a family-oriented business.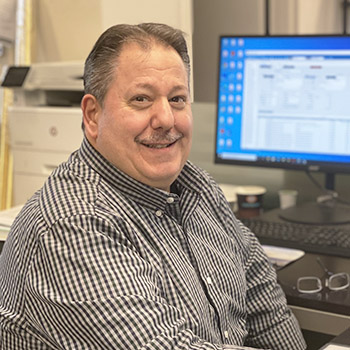 Sales Assistant