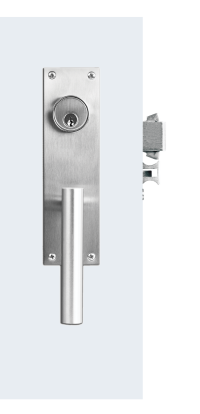 SL9100ADA
Self-Latching Sliding Door Sets
The self-latching sliding door lock is an easy-to-operate privacy solution for ADA compliant openings.  The latch bolt is held back and released by pressing of a button or by sliding door closed against jamb. The door self latches whether latch is projected or retracted. When door hits the frame, the latch projects and latches.
ADA Compliant
Latch bolt functions like an edge pull when projected.
Deadbolt available for locking/extra security.
Single action egress allowing unlocking and sliding the door open in one operation.
Lock can be used with other manufacturers' sectional levers that can be installed vertically.
2-1/2" or 2-3/4" backset standard, other backsets available as a special order.
For 1-3/8" or 1-3/4" thick doors.
Available with 1" front (for 1-3/8" thick doors, specify SL9000xx) - sliding door applications only (not for pocket doors).
Furnished standard with 72L/1E, other lever trim available.
Cylinders not included.
---
Sell Sheet
Specification Sheets
Installation Templates