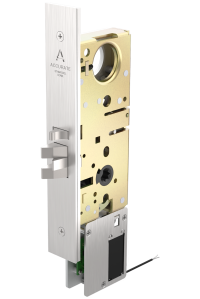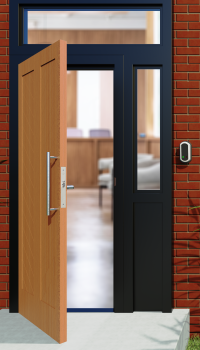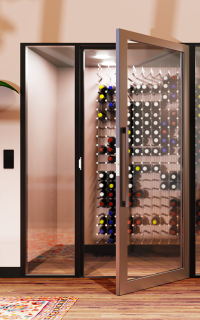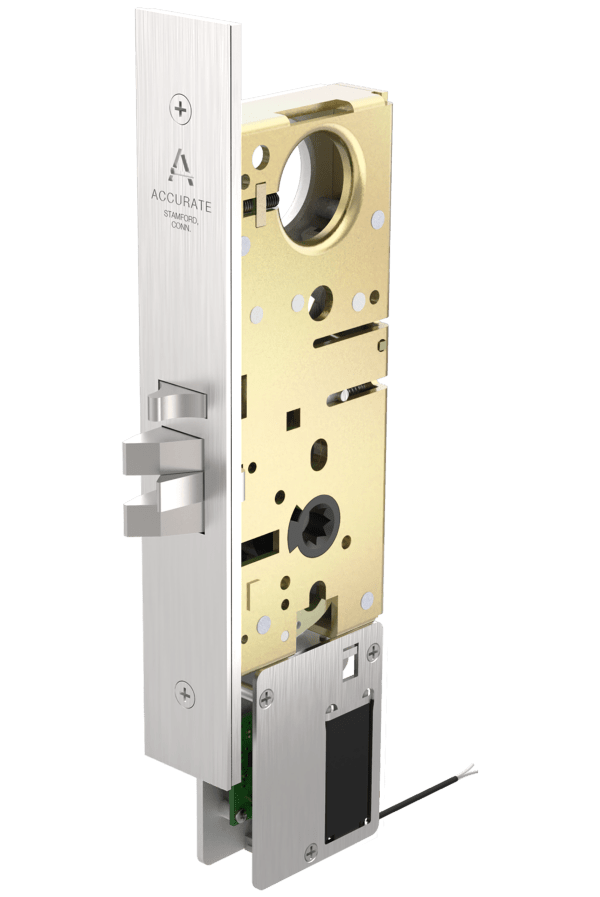 M8800ELR
Motor Drive Electrified Latch Retraction Narrow Backset Mortise Lock
The M8800ELR utilizes low voltage Motor Drive Electrification to retract the latch of the mechanical lock for easy access when presenting a credential.  Outside trim is rigid, active lever on interior.  It is ideal for power operated openings that facilitate accessibility/ADA compliance in commercial settings.  The lock also features 'continuous duty' available for doors on hold open schedules.  In a residential setting, this lock is popular on special function openings like wine rooms and offices.
Electrified Locks
M8758ELR/M8759ELR for doors 1" minimum (1" armor front)
M8858ELR/M8859ELR for doors 1-1/4" " minimum (1 -1/4" armor front)
1-1/2", 1-3/4", 2", 2-1/4" backsets.
OPERATION: Key Cylinder (by others) will override electronics to retract latch bolt.
24VDC +/-10%
650mA MAX Inrush
200mA MAX Holding
Non-polarized Leads
Furnished Fail Secure Operation Only.
AE - Authorized Egress: Also referred to as REQUEST TO EXIT (or REX switch), monitors the use of the INSIDE trim when the OUTSIDE trim is locked.
---

M8825ELR Passage
Latch bolt by handle either side.
Inside and outside trim always free.

M8858ELR Institutional
Latch bolt by key either side.
Inside and outside trim always rigid.
Auxiliary latch deadlocks latch bolt.
View More Details +

M8859ELR Storeroom
Latch bolt by key outside.
Inside trim always free.
Outside trim always rigid.
Auxiliary latch deadlocks latch bolt
View More Details +
---
Sell Sheet
Specification Sheet
Installation Templates
Operating Instructions
Video



M8800ELR Motor Drive Electrified Latch Retraction Narrow Backset Mortise Lock




---
Click on a swatch below to get a closer look
US4


Satin Brass

US4NL


Satin Brass + No Lacquer

US32D


Satin Stainless Steel

US26D


Satin Chrome

US3


Polished Brass