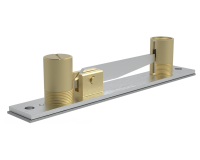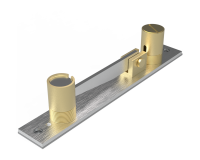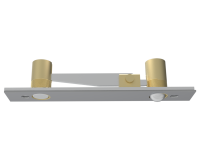 04
Transom Bolt
Allows a pair of doors to open and close together to gain full use of the entire opening without the necessity of releasing and securing the inactive door after every operation.  Transom bolts are especially ideal for small double door situations such as bedrooms, master baths, closets, French doors, patio doors, and offices.
Commonly used on interior doors, but can be utilized for exterior doors where UL fire ratings are not required.
A more convenient alternative to manual flush bolts which require a manual release/manual locking for every simultaneous opening or closing of a pair of doors.
Less exposed hardware than automatic flush bolts.
Smooth operation.
Easy installation.
Ball catch on top of active door is easily adjustable (with screwdriver) to account for variation of door to header clearances.
Available with double ball catches for push/pull operation (specify as 04DC).
---
Sell Sheet
Specification Sheet
Installation Template
---
Click on a swatch below to get a closer look
US4


Satin Brass

US4NL


Satin Brass + No Lacquer

US32D


Satin Stainless Steel

US26D


Satin Chrome

US3


Polished Brass

US3NL


Polished Brass + No Lacquer

US26


Polished Chrome

US32


Bright Stainless Steel

US9


Polished Bronze

US10


Satin Bronze

US10B


Oil Rubbed Bronze

US14


Polished Nickel

US15


Satin Nickel

US19


Oxidized Black + Lacquer

US19LL


Oxidized Black Less Lines + Lacquer

BN


Burnished Nickel