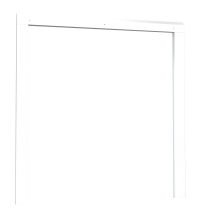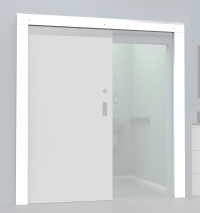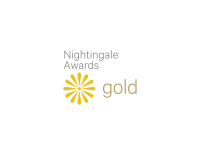 LR-SDS-FF
Ligature Resistant Sliding Door System Fast Frame Kit
Allows two people to install the door in 20 minutes or less resulting in a seamless frame for the Ligature Resistant Sliding Door System.
Ligature Resistant
Includes: 2 side rails, 1 top rail.
Allows 2 people to install the door in approximately 20 minutes.
Once simple blocking has been added to the wall studs surrounding the door, side rails can be installed first, followed by the time frame with track.
Results in a seamless frame around the door.
---
Sell Sheet
Installation Instruction
Specification Sheet
Video



LR-SDS Fast Frame Kit Install




Product Catalog



Ligature Resistant Catalog




---
Click on a swatch below to get a closer look
US26D


Satin Chrome

US32D


Satin Stainless Steel
US26D
Satin Chrome
---
How to Specify
Function.
Finish.
Door Thickness.
Door Type Door Width
Options
Examples
LR-SDS | Privacy with Indicator | Tubular | Fast Frame Kit
E.g.:

LR-SDS-5i.

US26D.

134.

WOOD.44.

FF

LR-SDS | Hospital Privacy with Indicator | Tubular | Fast Frame Kit
E.g.:

LR-SDS-5Hi.

US26D.

134.

METAL.44.

FF

LR-SDS | Classroom Deadlock | Mortise | Fast Frame Kit
E.g.:

LR-SDS-9503ST.

US26D.

134.

METAL.44.

FF
Notes
Special Options:
LR-ADA-F/LR-ADA-Fi Flush Thumb Turn
LR-SHOE
Stop Kit A/B
FF Fast Frame Kit
Special Requests available
Related Products
Ligature Resistant Sliding Door System
Self-Latching Ligature Resistant Sliding Door System
Self-Latching Ligature Resistant Sliding Door System
---
View Product