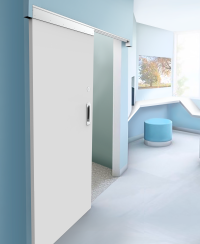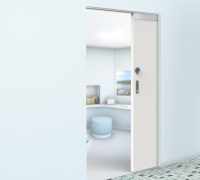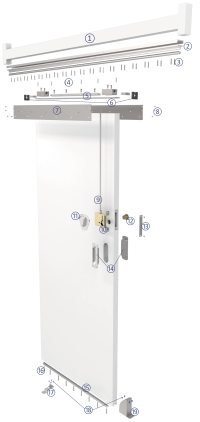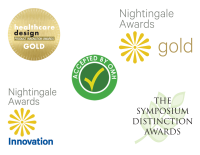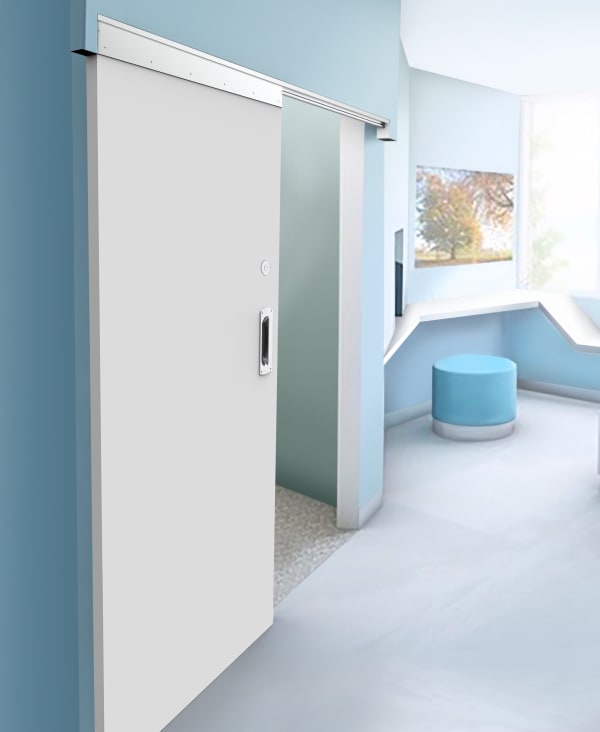 LR-SDS
Ligature Resistant Sliding Door System
The patented Ligature Resistant Sliding Door System is a seamless, safe, space-saving and secure door opening solution designed for behavioral healthcare environments. The concealed track system hangs a 1-3/4" door with a surface applied 1/16" gap without any exposed anchor points or cavities where unwanted items could be stored. The seamless deign also eliminates opportunities to use the top edge of the door as a ligature point.  The sliding door features a concealed vertical rod bolt that locks into the concealed track and is operated by a ligature resistant thumb turn to provide privacy. A clutch override feature is included to unlock the door from the outside when the inside turn piece is forcibly held, making it a safer solution for patients, nurses and staff. In addition to locking the door in the "closed" position, other locking positions can easily be added based on the application. It can also be offered with a keyed deadbolt feature that also provides override safety. Ligature resistant flush pulls allow the door to be opened and closed. 
Ligature Resistant
Concealed track system hangs a 1-3/4" thick door with minimal surface applied gap without any exposed anchor points or cavities.
Concealed floor guide keeps door flush against wall.
Concealed vertical rod bolt locks into track providing privacy with no accessible latch bolt or strike.
Features ligature resistant thumb turn and flush pull.
Top door edge not accessible as a ligature point which eliminates barricade tactics and using door as a weapon.
Privacy function and keyed deadbolt available. Mortise and tubular lock options available based on application (mortise functions will require a cover plate on door edge, while tubular functions install without any visible door prep).
Includes a clutch override feature so staff can gain entry in barricade situations.
In addition to locking in the "closed" position, other positions can be added (e.g. locked in open position).
Rubber cladding dampens closure allowing quieter operation and more resistance to abuse.
Contributes to a smaller patient room design saving up to 45% of space.
Strength tested to meet or exceed one 150 ft-lb impact per section 6.1.1.2 of ANSI A250.13-2014. System withstands abuse and continues to function even after door failure.
The LR-SDS is available with a Ligature Resistant Shoe (when ordered) that provides structural integrity against lateral forces applied by patient abuse.* This captures the lower leading edge of the door when in the closed position.
There are two ball bearing blocks, each having a dynamic load capacity of 1240lbs.
---
---
Sell Sheets
Installation Instructions
Specification Sheets
Videos