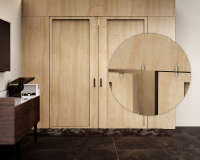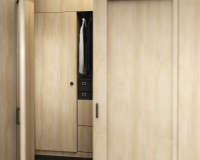 MC
Magnetic Catch
The Magnetic Catch offers a pristine method of keeping a door properly secured in the open and closed positions. Combining powerful rare-earth magnets with simple installation and no moving parts, this catch secures most doors seamlessly and quietly.
Noise Reduction

Magnetic Latch
The part is provided with the full magnet strength but is adjustable down for lighter doors.
The magnets are removed prior to installation.
Available in two sizes, specify MC-L for large, MC-S for small.
For use on standard and narrow stile doors for all lock functions.
Can be specified in any finish, including Cerakote™.
Easy installation.
---
Specification Sheets
Sell Sheets
---
Click on a swatch below to get a closer look
US4


Satin Brass

US4NL


Satin Brass + No Lacquer

US32D


Satin Stainless Steel

US26D


Satin Chrome

US3


Polished Brass

US3NL


Polished Brass + No Lacquer

US26


Polished Chrome

US32


Bright Stainless Steel

US9


Polished Bronze

US10


Satin Bronze

US10B


Oil Rubbed Bronze

US14


Polished Nickel

US15


Satin Nickel

US19


Oxidized Black + Lacquer